"When in doubt, throw it out."
We've all heard the phrase, "when in doubt, throw it out!". This phrase is a good rule, but it's not great. A product should be discarded if you can not verify the length of time it spent in the temperature danger zone. This rule causes unnecessary food waste as not all food thrown out during power loss will be unsafe to sell.
Most of the time it is hard to tell which foods are safe. Perfectly sellable food is often disposed of because of the liability risk of the unknown. So, how can retailers eliminate food waste and ensure their inventory will be safe after power is restored?
The key is to know precisely when foods leave the safe zone and for how long.
Here are 5 things you need to do in case of a power outage if you manage potentially hazardous foods.
5 Ways To Properly Manage PHF During Power Loss
Implement A Power Loss Protocol
Power outages seem more common these days due to environmental and other issues out of our control. With municipalities becoming more strict on power usage, knowing how to weather a power outage is crucial for any business owner, especially retail grocery stores.   
Why is this so important?  
Ensuring that your staff knows best practices and protocol during a power outage can significantly impact the amount of inventory you may lose. Your focus during a power outage is to keep foods out of the temperature danger zone as much as possible. Be proactive and develop a plan of action to keep refrigerated foods at a safe temperature in your facility.
2.
Ensure Cold Chain Inventory Is In An Enclosed Refrigerator
Once a power outage occurs, it is crucial to act fast to save as much cold PHF before it is too late. Cover open display cases or move perishable items into fridges with doors. Freeze what you can and consolidate foods into insulated containers or walk-in coolers to help make the cold last longer. Close off refrigeration aisles and barricade or lock the doors until the power is back. Keep a supply of ice or gel packs frozen and readily accessible, and use any ice you have in stock to help keep everything else safe.
3.
Keep Temperature Records
Document the temperature of the foods immediately and record the time that the outage began. Check temperatures at least every 4 hours. Once power is back, these records can help identify PHF in the temperature danger zone. Cold chain PHF that has exceeded 50°F (10°C) for any amount of time must be discarded. Use one of the following tools to help know what products end up the danger zone:
Wireless temperature monitoring sensors
Calibrated food thermometer
Data logger
Fridges with built-in temperature control and a digital display.
We recommend wireless automated temperature sensors to monitor food temperatures and to maintain an accurate temperature log. This solution is comparably inexpensive, can be paired with a cellular gateway, and uses long battery life sensors which allows the system to work during a local power outage.
When power is lost, data loggers and fridges with built-in thermometers and alert systems may not be able to provide accurate or real-time data. Calibrated food thermometers require an employee to go around and check individual units, which can cost you valuable time during a power loss event.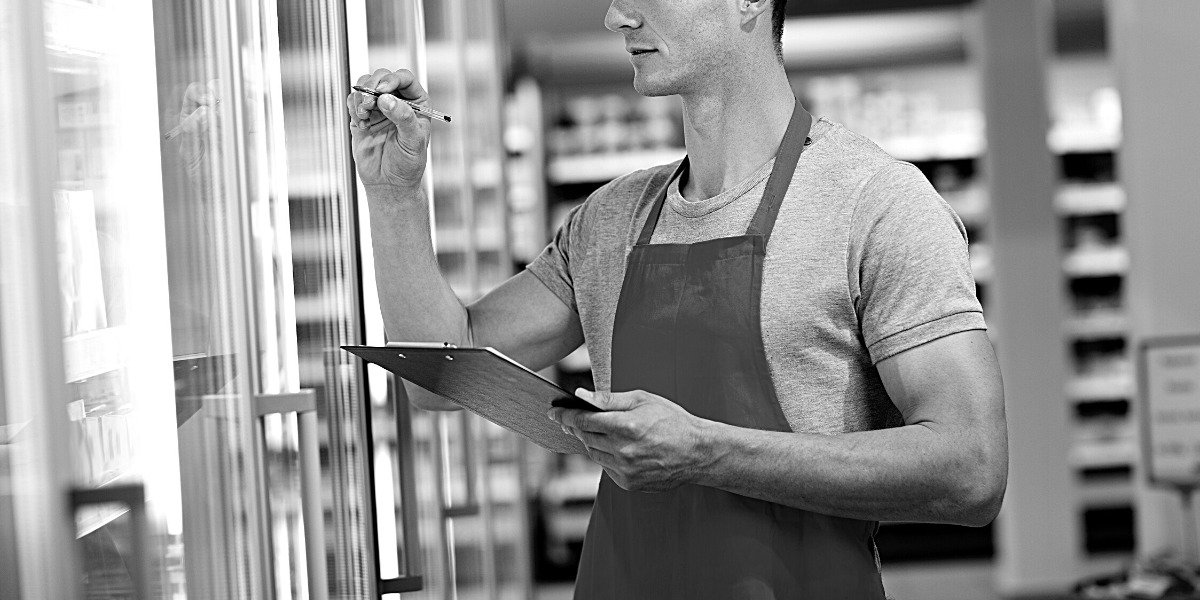 4.
Invest in generators specifically for refrigeration equipment
While this can be costly, investing in dedicated generators for your refrigeration equipment may be beneficial. Some stores already have a generator for life-saving purposes such as emergency lighting or saving data by powering down registers. But if power losses often occur where you operate, a dedicated generator for refrigeration operations could save you thousands of dollars. These savings can prove a return on the investment very quickly.
5.
Bring In Refrigeration Trucks
Once a power outage occurs, look to your local power company for information on how long you might be without power. If the estimated time is longer than one hour, bring refrigeration trucks to your store and have staff move critical PHF as soon as possible. Refrigeration trucks typically run on diesel and should provide relief until the power comes back. 
Properly dispose of PHF if deemed unsafe. The California Department of Public Health (CDPH) provides guidelines for handling cold PHF. Any food stored below 41°F (5°C) is suitable for sale. Any cold PHF that exceeds 50°F (10°F) for any time needs to be discarded. The guidelines vary if the PHF reaches 42-49°F (5.5-9.5°C), but the food can typically last about 1-2 hours in this zone before it starts to become unsafe. Use your discretion, and "when in doubt, throw it out." If PHF is deemed unsafe for sale, dispose of these products properly. Contact a local waste enterprise to direct you to proper disposal for large batches. When possible, compost perishable food to help divert food from landfills. 
Proper protocols ensure your inventory is kept safe during catastrophic events such as a power outage or loss. Being proactive and saving as much stock as possible will save your company money and eliminate food from ending up in your local landfill. An automated temperature monitoring system with a backup battery supply can help you manage PHF during power outages. While you may be unable to eliminate total product loss during a power outage, reducing the costs experienced during a catastrophic event is possible.
Find valuable resources related to this topic: California Grocers Association.